<![if !IE]> <![endif]>
Black Horse Sp. z o.o.
Lakowa 3/5
90-562 Lodz
Poland
List of Products
This exhibitor shows the following products and commodity groups:

Company & products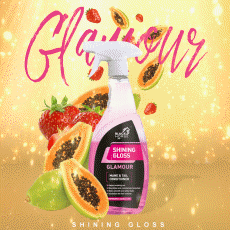 SHINING GLOSS GLAMOUR
Two-phase hair conditioner for unruly hair requiring impeccable appearance and radiance
Thanks to the fruit complex: raspberry, apple, peach, kiwi, papaya, cucumber and strawberry it has a nourishing, refreshingand polishing effect and detangles the hair. Thanks to the blend of oils: sunflower, coconut,flaxseed, avocado, argan, macadamia and olives fully nourishes the hair. A high content ofvitamins and fatty acids condition and repair dry and damaged hair. Prevents hair loss. Withregular use, it helps to preserve the natural shine and healthy, beautiful appearance. Maneand tail become strong and thick, the skin remains moist.
Application: SHAKE BEFORE USE! After mixing the phases, apply at a distance of 30 cm. Spray a small amount of the hair conditioner and leave it for a while to absorb it into the hair.Then comb out in the direction of hair growth. The product is suitable for all types ofhair. It leaves no stains.