<![if !IE]> <![endif]>
ea.St retail GmbH
Grünbacher Str. 8
84570 Polling
Germany
+49 8633 7711

+49 8633 7712

List of Products
This exhibitor shows the following products and commodity groups:

Company & products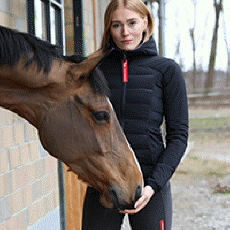 EA.ST JACKET PERFORMANCE INSULATION
EA.ST JACKET PERFORMANCE INSULATION
With our ea.St Jacket Performance Insulation we add another cool element to our revolutionary ea.St system. It is a 3rd layer for the cold moments of the year. Perfectly combined with our ea.St Shirt Seamless (1st Layer) and the ea.St Hybrid Jersey (2nd Layer), you are well dressed even in the coldest conditions. As with all of our products, we have consistently combined and implemented function and style. Performance and cold are no longer a contradiction in terms. Convince yourself and expand your personal ea.St system with our next must-have.
Features:
Waterproof TPU membrane (3,000)
Moisture wicking and breathable (1,000)
Highly elastic and freedom of movement
Windproof
Padded chest area
Flexible combination options using the ea.St system
Highly technical and functional
Fashionable and timeless
2-way zip
Hidden front pockets with zip
Thumb loops
THE EA.ST PHILOSOPHY
ea.St Performance Riding Wear based on the ea.St System means the compilation of a complete ea.St sport outfits, whereby each ea.St individual piece can be combined with each other, both technically and optically. Our ea.St outfits are developed to be used in any discipline in any season and in any weather condition with a maximum of cool design. The starting point (Core Element) of every ea.St sport outfit are our revolutionary pants, consisting of the lines R1 (riding leggings) or R2 (riding breeches). They are numerous possible combination with our ea.St shirts and jackets (using the ea.St layering principle) and other ea.St accessories.
Every ea.St product has at least the following properties in common:
Intensive research
Best technical fabrics
Long-lasting product tests
Maximum functionality
Cool & minimalistic design