<![if !IE]> <![endif]>
HV Equestrian BV
Oude Middenweg 81
2491 AC S GRAVENHAGE
Netherlands
List of Products
This exhibitor shows the following products and commodity groups:

Company & products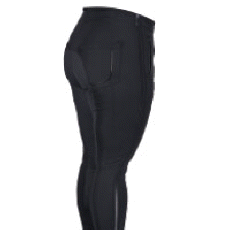 Breeches Wondershape
New innovative high waisted plus-size breeches that are flattering and comfortable. 4-way stretch fabric and the inner adjustable waist construction ensures that the breeches are not sagging and stay nicely at the rider's waist. The waist line is ergonomically shaped and is higher at the back. The grown-on construction offers less bulkiness and is more comfortable than a regular cut and sewn waistbands. Wondershape breeches features an insert compression panel on the inside of the garment. This panel provides comfortable squeez-in feeling around the tummy. Vertical seams and vertically placed zipper pockets help to look slimmer. Tonal pipings make the legs optically longer. Seams on back panel support the bum and offer a light push-up effect. Perfect breeches for different body types.
Feel beautiful, wear euro-star!