<![if !IE]> <![endif]>
Harcour
Rue des Chardons 22 Za de Lepine
72460 SAVIGNE L EVEQUE
France
List of Products
This exhibitor shows the following products and commodity groups:

Company & products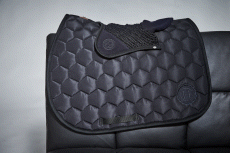 GREEN
GREEN SPIRIT: For the love of the planet: HARCOUR used recycled polyester which reduce energy of consumption and carbon dioxide emissions Its honeycomb cotton lining provides better absorption and maximum breathability.
The ventilated quilting is suitable for all horse shapes. It is thin and stylish, suitable for intense training sessions as well as for leisure riding.
With its sturdy cut and shape, this pad stays firmly in place underneath the saddle and has a high wither line.
Available in 1 colour, it can be teamed with the Peace fly veil.