<![if !IE]> <![endif]>
VIP Equestrian Ltd
Staff Cottages 1 Staff Cottages
WHITCHURCH RG28 7SE
United Kingdom
List of Products
This exhibitor shows the following products and commodity groups:

Company & products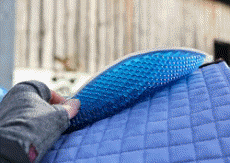 VIP Equestrian Ltd
VIP Equestrian developed the VIP using AcktonⓇpolymer as the raw material. This is a viscoelastic polymer that has been rigorously tested worldwide in forty years of human garde peer reviewed research.
In short what makes the VIP so different is our raw material. It was designed by a surgeon forty years ago as a skin fat substitute to treat and prevent pressure sores, open sores and ulcers in his patients.
Why this material and not others? The AcktonⓇpolymer used in the VIP has a very high tensile strength. This also means that under pressure regardless of what forces are applied to it it keeps a uniform thickness, part in thanks to the bobble design. VIP is ultra durable and retains its amazing properties.
The VIP is completely seamless even around the gullet- which is made of a thin film to make sure there is no spine pressure.
It is totally hypoallergenic and bacteriostatic which is great for horses with skin issues. The VIP is an amazing mid point interface between the horse and rider.
It doesn't alter saddler fit, in fact 90% of our stockists are physiotherapists, SMS sadlers, vets and specialist professional stockists.
The VIP is a superior impact and pressure relieving pad for horses
Raw material has had 40 years of human grade research
Relieves impact, pressure, friction
Seamless and slim line design does not alter saddle fit
The VIP is flexible yet has a high tensile strength to maintain its shape
Does not leak, flow, absorb sweat, bottom out or spread under pressure
Hypoallergenic and easy to clean
Unique 'bobble' design, increases surface area and dissipates pressure.