<![if !IE]> <![endif]>
Zedan/Bremsenbremse MM-Cosmetic GmbH
Auf dem Löh 8
56584 Anhausen
Germany
+49 2639 961771

+49 2639 962969

List of Products
This exhibitor shows the following products and commodity groups:

Company & products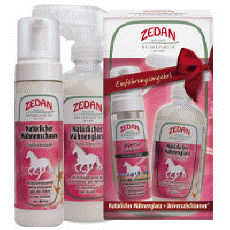 Natural products for mane, tail and coat
At this year's SPOGA horse, ZEDAN is presenting its new mane, tail and coat care products based on the NCS natural cosmetics standard. In addition to the silicone-free recipes of the natural mane gloss spray and the organic ginkgo shampoo, there are two other innovations: The mane foam is particularly suitable for braiding or for horses that are easily scared
by spraying noises. The universal foamer is suitable for filling with ZEDAN NCS shampoos and is ideal for quick washing, but can also be filled with ZEDAN Natural Mane Shine. In the development of the products, ZEDAN placed emphasis not only on the naturalness, but also on the multifunctionality and refillability of the products. The launch of the new series is supported by promotional packaging made from the products "Natural Mane Shine" and "Universal Foamer" at a special
price for dealers and end users.