<![if !IE]> <![endif]>
Lam Technologies Ltd t/a Bua Saddles
Highfield House, Highfield Park
Dublin D14 F2P2
Ireland
List of Products
This exhibitor shows the following products and commodity groups:

Company & products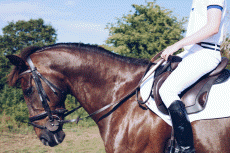 The concept & philosophy behind the Bua Saddle?
So many other sports that rely on technical equipment for performance, have advanced by embracing the latest technologies and materials, but not particularly in equestrian sports. Bua re-evaluated the saddle from first principle and its designer spent a considerable number of years researching the bio-mechanics, muscle groups, and gate analysis of horses. To break free from traditional approaches to saddle design, Bua re- imagined the saddle, as though it had never been designed before. They asked fundamental questions like 'how should the rider be transported on a horses back'?, where exactly should they sit?, what does the rider require from a saddle when jumping and riding other disciplines?, and so on. Two key conclusions were most notable; for the rider the saddle is necessary to provide support and balance, central to achieving this is the tree design; for the horse the saddle must distribute the rider's weight evenly across its back while at the same time offer flexibly so as to minimise any restriction to horse stretch and freedom. Of course there are many more considerations, but these were fundamental.
The super light weight cantilevered tree was born. By its natural design it affords a separate and customised shape specific to the horse and the rider which, ultimately leads to better comfort for both. The C-shaped structure of the saddle further offers dynamic flexibility which moves with the horse while still supporting the rider in a balanced position.
While the central idea came quick, moving from concept to product has taken many years. Bua looked to aerospace manufacturing processes and technologies for its unique cantilvered tree. The Bua was formally launched at the Dublin Horse Show in 2015 and now has customers in over 18 countries world wide.
Come and Join Team Bua Saddles.